2023 Annual Meeting
175 AWPA members, spouses and guests met in St. Petersburg, Florida, at the Vinoy Resort and Golf Club. Members heard from representatives from Congress and the Department of Commerce, got the latest on the rod market and the economy, and heard from equipment suppliers as well.
Kevin Dempsey – State of the Steel Industry
Stephen Jurewicz, Nucor – Wire Rod Panel
Please note: Some presentations are not available online. Dawn Shackleford's presentation was off the record, and John Manzella's presentation was only available to attendees. If you have questions, please contact the AWPA Office.
2022 Operations Managers Meeting
Wire Plant Managers met in Tulsa Oklahoma in October for the first time in 3 years. They toured the Leggett & Platt wire facility in Carthage, MO. Presentation on workforce development, safety technology and the latest from OSHA gave everyone a lot to think about.
Workforce Solutions: Scott Fry and Dr. Marcie Mack, Mid America Industrial Park
Safety Technology – Using Existing Software to Implement a Safety Program: Nick Kruse and Joe Metcalf, Leggett & Platt
The latest from Aztech Lubricants – Michael Colvin, Aztech Lubricants
OSHA Update: Reginald Whitaker, CSP, Oklahoma Steel & Wire Company

2022 Government Affairs Conference
96 people attended the 2022 Government Affairs Conference to get updates on trade, politics, and supply chain challenges. After 3 years off, a large group also met again with representatives on Capitol Hill.
Economic Outlook
Connor Lokar, ITR Economics (This presentation is only available to attendees of the conference.)
Supply Chain Update
Political Update
2022 Annual Meeting
More than 130 AWPA members, prospective members and guests met at the Wyndham Grand in Clearwater Beach, Florida and got back to business!
2022 Policy and Political Outlook
Dana Wood, Director of Government Relations, Kelley, Drye & Warren LLP
Navigating the New Normal: Tackling Key Employment Issues during a Pandemic
Caren Skversky Marlowe, Esq., Ogletree, Deakins, Nash, Smoak & Stewart, PC
Rod Mill Upgrade Panel
Reed Hoagland, Leggett & Platt
Luis Barrenechea, Optimus Steel
2020 Annual Meeting
The steel wire  industry was in Scottsdale, AZ  in February, to hear the latest on the economy, the effects of tariffs, and the  upcoming election.
The Economic Impact of Tariffs
Johannes Moenius, Professor, William R. and S. Sue Johnson Endowed Chair of Spatial Economic Analysis and Regional Planning, University of Redlands School of Business
Workforce Development:
Brian Burr, President/CEO Sumiden Wire Products Corporation
John Martin,  CEO MAR-Mac Industries, Inc.
Mary Ann Christensen, President/Co-owner, Big Ideas, USA
Kimberly Korbel, AWPA Executive Director, for NAM Creators Wanted Tour
Global Economic and Geopolitical Outlook
Bernard Baumohl, Chief  Global Economist,  Economic Outlook Group
2019 Operations Managers Meeting
Kimberly Korbel – Tariffs, Tariffs, Tariffs (Oct 15 update)
2019 Government Affairs Conference
90 Attendees met in Washington, DC to hear the latest on Tariffs, Trade, and the current state of the 2020 Election.  AWPA members then headed to Capitol Hill to advocate for the steel wire industry, and the passage of the USMCA.
Kimberly Korbel – Tariffs, Tariffs, Tariffs: an update on the status of 232, and 301 Tariffs, and and potential trade legislation.
2019 Annual Meeting
180 AWPA Members, prospective members, guests and their spouses attended the 2019 Annual Meeting in Clearwater Beach, Florida. The weather was fantastic, and the program was great, too!
Thursday
Robert Fry – Economic Update
Andrew Pappas – Financing Trends in Wire & Rod World
Vincent Pappalardo – M&A Environment for Wire & Rod
Friday
Robert McKinzie – Workforce Development Overview
Kimberly Korbel – Heroes Make America
Jim Kerkvliet – Optimus Steel Market Perspective
Michael Setterdahl – Liberty Steel Market Perspective
2018 Operations Managers Meeting
62 Operations Personnel from across the country met in Indianapolis for this year's Operations Managers meeting.
   Lisa Ryan – Manufacturing Workforce Engagement
Elena Valentine – Job Description Videos
Safety Panel:
Stephanie Ellis, Insteel Industries
Reginald Whitaker, Oklahoma Steel & Wire
Janet Kopenhaver – Post Accident Drug Testing
2018 Government Affairs Conference
100 attendees met in Washington, DC to hear the latest on international trade, tariffs, and the mid-term elections.
John Foster – American Institute for American Steel
Laura Baughman – The Trade Partnership
John Guzik – The Franklin Partnership and Jennifer Baker Reid – The Laurin Baker Group
George Felcyn – Bracewell, LLP
232 by the Numbers: Bar, Rod and Wire
2018 Annual Meeting
More than 150 attendees met in Palm Springs to discuss the latest economic and trade issues.
Clare Zempel – Economic and Market Outlook
Kimberly Korbel –  Membership Survey and Interviews
John O. Johnson – Economics of Mergers and Acquisitions 
Janet Kopenhaver –  Election Outlook
Johannes Moenius –  Steel or Steal? What the Section 232 Tariffs Mean for American Wire
Gardner Carrick – Manufacturing Workforce Solutions and Manufacturing Day
2017 Government Affairs Conference
More than 100 attendees met in Alexandria, VA at this year's Government Affairs Conference. 34 Member Company Representatives went on 73 visits to Congressional Offices, and a Wire & Wire Products Caucus Briefing was held on Capitol Hill.
Fred Waite – Trade Case Status Update: AD/CVD Investigation of 10 Countries 
2017 Breakfast at Interwire
Ken Simonson of the Associated General Contractors of America spoke at this year's Breakfast.  Thank you to Nucor for sponsoring this event.
Ken Simonson – US Construction Spending, Labor and Materials Outlook
2017 Annual Meeting
Over 200 members and guests met in Napa, CA for the 2017 Annual Meeting. Attendees heard presentations on the economy and the steel market, imports and trade, the political outlook, and how the Industrial Internet of Things is improving manufacturing. Materials from the meeting are below.
Janet Kopenhaver – 2016 Election Update
Becky Hites – Steel Industry and Trade Update
Nat Rudarakanchana – Wire Rod, AMM and 2017
Elizabeth Parkinson – Industrial Internet of Things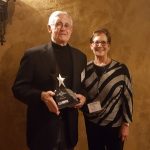 Stan Fossick received this year's Max Moore Entrepreneurial Spirit Award from Pat Moore.
2016 Operations Managers Meeting
Blending a Multigenerational Workforce
The 2016 Operations Managers Meeting in Charlotte, North Carolina provided a workshop for Operations Managers and Personnel Managers to develop new plans for recruiting and retaining new employees, and integrating them into the existing workforce. The group toured HSM Solutions' Hickory Springs facility.
Presentation: Shira Harrington, Purposeful Hire, Inc.
Workbook:  Workbook, Multigenerational Workforce
 Attendee List: 2016 Operations Meeting Participants
---
2016 Government Affairs Conference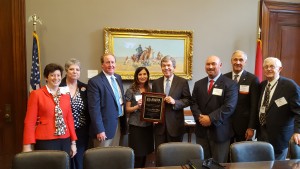 The 2016 Government Affairs Conference was held in Washington, DC June 6-8. More than 80 AWPA attendees joined over 500 participants in NAM's Manufacturing Summit in promoting the manufacturing industry on Capitol Hill. Advocacy focused on Global Steel Overcapacity and China's Non-market Economy Status, Regulatory Reform, and promoting the Wire & Wire Products Caucus. Below are materials from the meeting.
2016 Government Affairs Conference Attendee Packet
Global Overcapacity and China's Impact on the Steel Industry – Kevin Dempsey
---
2016 Annual Meeting
The 2016 Annual Meeting was held February 22-24 in St. Petersburg, Florida. There were 182 attendees. Participants heard presentations on the economy, the scrap market, multi-generational workforce challenges, the wire rod market, and an update on the political outlook for the 2016 election. Below are materials from the meeting.
2016 Annual Meeting Attendee Packet
A National Overview and Look Ahead to November – Glen Bolger
Making It Stick: Managing Your Multi-Generational Workforce – Shira Harrington
Rod Supply Panel – Tom Keller, Macsteel International USA
Rod Supply Panel – Bob Moffitt, Heico Wire Group
Presentations from Steve Murphy (Steel Market Update) and Joe Ward (Scrap Market Outlook) will not be available.
---
2015 Government Affairs Conference
The 2015 Government Affairs Conference was held September 16-18 in Washington, DC.  There were 114 attendees, the largest group at this meeting since 2000. 43 AWPA members made 87 visits to lawmakers on Capitol Hill, to discuss ENFORCE, the US House Wire & Wire Products Caucus, and the latest developments at the National Labor Relations Board. Below are materials from the meeting.
2015 Gov't Affairs Conference Attendee Packet
Congressional Visits Information Packet
Political Engagement Panel Presentation
Presidential Campaign Update and Taking The Next Step in Engagement – Leann Paradise
NAM Regulatory Update and Policy Agenda – Joe Trauger
---
2015 Operations Managers Meeting
The 2015 Operations Managers Meeting was held in Nashville, Tennessee. Plant managers, safety and environmental personnel, human resource managers, and industry suppliers met to discuss employment issues, upcoming regulations, and hazard identification challenges. The AWPA would like to thank Sumiden Wire Products Corporation and Mid-South Wire Company for opening their facilities to our group for tours. Below are materials from the meeting.
NAM Regulatory Update and Policy Agenda – Joe Trauger
Handling FMLA Abuse and Employee Discipline Documentation, and an Update on Ambush Union Elections – Nelson D. Cary
Hazard Identification or Complacency: Which is the Bigger Problem? – Brett James and Reginald Whitaker, CSP