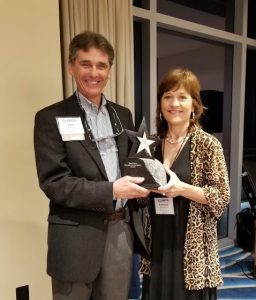 The 2019 Max Moore Award recipient is John W. Martin, III, CEO of MAR-MAC Industries, Inc.
John Martin's entrepreneurial spirit is rooted in his love of selling. He considers the sales profession a noble calling and he's worked hard at it. His father handed him the keys to a company car one summer in college and told him to "go sell!" He started down the road and, as he describes it, he found that "cold calls were enjoyable, after you get over the nausea and cold sweats."
His company offered four product lines when he rejoined the business. Today, it offers more than twenty.
We've all read about the family firms that sold or folded in the face of global competition in the early 2000s.  He decided the company would not sell or fold, it would get into the import business, too. At the same time, he has focused on keeping manufacturing here at home.
John is always determined to "build the better mousetrap." He went into the field to talk to the end-users of his product. Based on their input, he came back and designed tools to better serve the needs of the guys doing the work.  The product is now recognized as required equipment on many jobsites.
Company t-shirts and hardhat stickers are coveted by these customers. He composes a letter twice a year that is sent to thousands, with his thoughts on the state of the business, the industry and the country and he provides his mobile phone number. His family still talks about the year when he took call from a customer during Thanksgiving dinner.
John Martin is a quiet leader and one who leads by example. Third shift staff know that he often shows up at 2am for a plant walk through so he can talk and listen and find out what's going on.  He has led the company through its share of tough times with poise and calm. He has created a positive working environment and employs people who have been with him over thirty and even forty plus years.
He has sponsored multiple programs to support employees including tuition assistance and financial planning classes. The company has provided a professional chaplaincy program to give support to employees and their families, and this year, has offered an onsite healthcare provider to make access to care easier and more affordable.
He has served as a leader of the AWPA and other associations to which he belongs.
The lesson that John and his wife gave their children was to give and give generously, but "in such a way that your left hand doesn't know what your right hand is doing." They practice what they preach, and it is hard to know all the causes they support. They can't hide everything. The company has made significant contributions to the local community:
sponsoring the high school band program,
providing books to the elementary school library, and
joining with other local employers to build a baseball and softball complex.
At the request of employees, he has supported
little league ball teams, and
field trips to Washington, DC.
He is a member of the Lions Club and it is not unusual to see him delivering meals.
His faith is important to him. He and his wife have long supported a prison ministry program run by Columbia International University. They have provided scholarships for seminary education for inmates who are then sent throughout the prison system to minister. He goes into prisons regularly to speak as part of that program. He is an active member of his church where he has served in many leadership roles. Many of us are fortunate to have a place on his prayer list.
Recently, he has thrown his support behind the local chapter of Habitat for Humanity and serves on their board. He joined with several other local businesses to provide housing sites and seed capital to get the Chapter going. He invites employees to play in the annual Habitat golf tournament and sponsors as many foursomes as necessary to enable them to play.
The YMCA can always count on him to bid up the guided turkey hunt at the annual silent auction fundraiser. His sons are always excited when he wins it.
His favorite program might be the 24 years he has participated and helped fund a summer camp. Every July, he leads a crew of high schoolers for a week in the sweltering heat of Summerton, SC repairing the homes of families in need. He demonstrates incredible patience – not to mention risk tolerance – teaching 15 year olds to use power tools and how to shingle a roof. If the wire business hadn't worked out, he would have made a pretty good roofer.