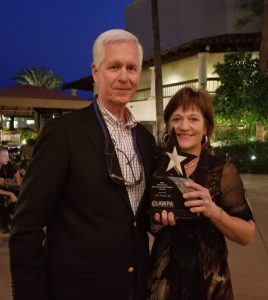 H.O. Woltz, III, built his wire business from a regional company into one with a national scope, through both growth and skilled acquisition. He has led his company through a number of economic downturns, bank and creditor crisis', and trade issues that have closed other wire companies.
As is the case with many family-owned companies, H first began attending AWPA meetings with his father.  John Martin said the following, "My dad was a contemporary of his's dad.  Daddy used to joke that he did not know when he went to school because he was with his father at every industry function, no matter when or where it was."
He has served many leadership positions in the AWPA, including as a member of the Board of Directors since 1990. He has testified in numerous trade cases before the International Trade Commission for the AWPA and his company and at Congressional hearings on behalf of the entire Wire Industry. He also represents the industry on the US government's Steel Industry Advisory Committee. He is described as "A voice of reason" during difficult discussions of AWPA policy, as a leader on the Government Relations Advisory Committee.
He led his family-owned company through the rigorous process of becoming a publicly traded entity and built a team of exceptional leaders. Milton Magnus said, "His leadership role in AWPA is vital to the organization. He can see issues from both a public company's perspective as well as that of a family-owned company.  His levelheaded guidance has led AWPA through some very challenging issues.  Although I am senior to him, I have always looked up to him for his ability to lead."
He is a lifelong member of his Church and has served many terms on the Church Council, Finance Committee and on the Pastor Parish Relations Committee.  His daughters all received Gold Awards through the Girl Scouts program sponsored by the church.
He and his wife were very active in the educations of their daughters and served on parent committees at Salem Academy, Episcopal High School, UNC's Kenan-Flagler School of Business and Harvard.
He was active with the Chamber of Commerce, serving as its President and Vice-President. For over a decade, he served on the Board of Directors of the County Hospital.  He has served on a number of other Boards, including the local Museum of Regional History, United Fund, and his Country Club.
He and his family formed a Foundation, in 2006.  His brother said; "My family was always grateful for willing workforces and the pride employees placed in hard work and fair dealing.  To a great extent The Foundation has concentrated on donating to needs in the communities where current or former manufacturing facilities are located."
Having been nominated by three AWPA members who are all previous recipients of this award, the AWPA is pleased to present the Max Moore Entrepreneurial Spirit award to former AWPA President – H. O. Woltz, III, Chairman, President and Chief Executive Officer of Insteel Industries, Inc.