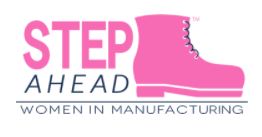 The Manufacturing Institute designed the Science, Technology, Engineering and Production (STEP) Ahead initiative to showcase the impact of women in manufacturing to help attract and retain the talent we need to succeed. STEP Ahead honors women on a national platform—from the factory floor to the C-suite—who have demonstrated excellence and leadership in manufacturing. We hope that you, as a champion of the manufacturing industry, will share this opportunity with your companies, communities and networks to nominate a female peer or colleague for this prestigious award.
The Institute's STEP Ahead initiative has made a difference—since its inception, STEP Ahead Award winners have impacted more than 300,000 individuals, from peers in the industry to school-age children. To date, they have honored 672 women who are making a difference in their companies and communities, and we are excited to continue building this army of leaders in 2018.
Don't miss the opportunity to recognize a leading woman with this national honor. Nominations will close September 29. Click here to nominate a deserving female today!
For any questions or for more information, please contact the STEP Ahead team at STEPahead@nam.org.