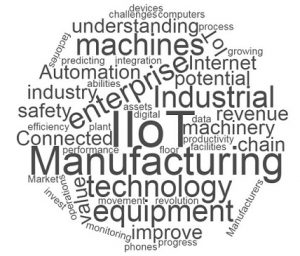 The Internet of Things (IoT) movement has quickly connected our everyday devices, from our phones to cars and even our refrigerators. There's no doubt that the IoT is growing and expanding into new territories, especially within the world of machinery. The manufacturing industry is on the cusp of a revolution with the help of the Industrial Internet of Things (IIoT). Embracing the future of the IIoT will result in a working environment connected by sensors gathering useful data regarding equipment status, temperature conditions and current work progress, helping to improve the efficiency, safety and productivity of operations.
Why now? Manufacturers around the world are gaining more confidence in technology's abilities and believe it's time to invest. Smart manufacturing will allow for the monitoring of thousands of machines, equipment and more, both inside and outside of factories. Understanding the value of adopting a new technology is just as important as understanding its benefits, challenges and overall potential. Manufacturers are predicting that IIoT initiatives will increase revenue 27.1% from 2015 to 2018.
Elizabeth Parkinson, Market Development Director for The Connected Enterprise from Rockwell Automation will discuss the IIoT and how manufacturers  can improve their performance through tighter integration between the assets on the plant floor and the rest of the enterprise value chain.
Have you registered for the Annual Meeting? There is still time – register today!