Did you miss it? The Annual Meeting last month was the place to be, with registration up 30% over 2022, and a full house at the Vinoy Resort and Golf Club.   If you couldn't make it, here's a quick recap.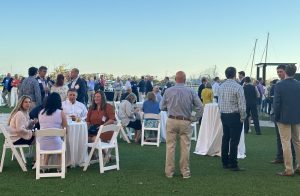 Monday began with committee meetings, and registration. The Government Relations Advisory Committee kicked things off in the morning, and worked on setting a new agenda for our government affairs work for the year. The Stainless product committee had the best attendance in years, and the Membership committee had to bring in extra chairs (and beer!). While afternoon committee meetings were proceeding, the spouses and partners gathered for a wine tasting welcome hour. Throughout the afternoon energy was high, resulting in a lively, warm opening reception overlooking the Vinoy marina on the bay. Thank you to all our supplier members, who generously sponsor this reception every year.
Tuesday morning started early, with the economic update from John Manzella, then a discussion with Dawn Shackleford, Executive Director of Trade Agreements, Policy & Negotiations, US Department of Commerce. Kathy Cannon from Kelley Drye and Ms. Shackleford had a productive, off the record discussion on trade policy, what trade actions might be expected from the Administration in the coming year, and how the AWPA might position itself to have a greater impact on trade policy going forward. We also had a supplier presentation from Schlatter, and an update on the Wire and Wire Products Caucus from Govt Relations Advisory Committee Chair Amy DeArmond, along with a letter from the Caucus Chair, Rep. Sam Graves. The afternoon was a gorgeous one for golf, fishing and tennis, and we wrapped up the evening at the Awards Reception, where we recognized the sports winners, and honored Brian Burr, who steps down as AWPA President. AWPA appreciates his service during what turned out to be a term full of unexpected challenges. You can check out additional updates to the AWPA leadership here.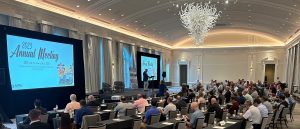 Wednesday, the final day, was just as beautiful as the first, and the Board of Directors meeting kicked off early, followed by Active Member and Associate Member business meetings. During the business meetings, AWPA members reviewed the organization's financial position (strong) and changes to the leadership. It also gave members a chance to discuss the meeting program and the AWPA's increased government relations efforts this year. The annual meeting wrapped up at the final general session, with a presentation from Kevin Dempsey, President of AISI, on the state of the steel market, and a panel of AWPA members discussing the wire rod market. We also had a supplier presentation from Mario Frigerio. Brian Burr closed the meeting with a final thank you to Nucor and Liberty Steel for sponsoring our economic speaker, and a reminder that the next AWPA meeting would be Breakfast at Interwire, May 10.
Save the date! We hope to see you there.