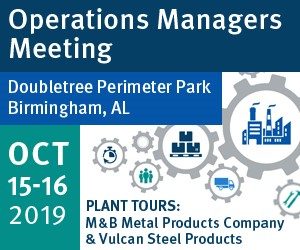 Mark your calendars!  The Operations Managers Meeting will be held October 15-16 in Birmingham, AL. Registration will open next month.
This two-day conference has been designed to suit the needs of  Operations Managers by providing education and networking opportunities. Whether it's safety issues, environmental regulations, or personnel management techniques, this meeting has information to help Operations Managers improve processes and procedures in any facility.
Plant Tours:
M & B Metal Products
M&B Metal Products Company started forming wire hangers in 1943 in Birmingham, AL to service local drycleaners due to a hanger shortage because of the war.  In 1963, the company built its current headquarters in Leeds, AL.  Over the years, M&B has focused on trying to reduce cost out of their products to remain competitive.  In the early 2000s, M&B built and installed efficient high-speed Electro-Deposition Paint systems.  Five years ago, M&B installed Kuka Robots to assist with material handling that historically has been done by people.  They will continue to invest in Robotics as well as other cost saving equipment.
This tour will be an opportunity to see robotics in use in real-world applications.
Vulcan Steel Products
Vulcan Steel Products was established in 1978 and was purchased by Steel Dynamics, Inc in August of 2016.  Vulcan has approx. 350,000 sq ft of production and warehousing space located in their Pelham, AL facility where there are approximately 350 employees.
Vulcan Steel Products has 3 operating divisions. They consist of the Cold Drawn Bar division where they make from 1/4 " to 5" diameter cold drawn bars in various grades that are targeted at the Steel Service Center and OEM markets.  They have a Heat Treat Division where they process long-bar induction quench and tempering on diameters from ½" to 5", up to 60 ft lengths.  These products target the oil and gas and construction markets.  The Threaded Rod division makes carbon, alloy and stainless threaded rod and studs.  Industrial distribution is the primary market.
During the tour you will see hot roll bar cold drawn, quench and tempered, and threaded into a finished fastener.