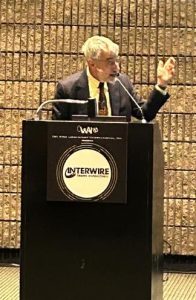 The American Wire Producers Association (AWPA) hosted a breakfast event during the renowned Interwire trade show. The gathering brought together industry professionals, experts, and enthusiasts to exchange knowledge, network, and gain valuable insights into the steel wire industry. The highlight of the breakfast was a presentation by the well-known economist, Ken Simonson.
During his presentation, Simonson provided an overview of the construction landscape and how it's impacting the wire industry. He discussed the influence of various factors such as raw material and labor costs, supply chain disruptions, evolving technologies, and shifting market demands. His foresight and comprehensive analysis gave attendees a deeper understanding of the industry's future prospects.
The AWPA's Breakfast at Interwire served as a platform for industry leaders to connect, collaborate, and share their expertise. Held amidst the bustling atmosphere of the trade show, the event offered a unique opportunity  to engage in meaningful discussions, explore emerging trends, and forge new partnerships within the industry.
Following the Breakfast, attendees were invited to a panel on the steel market featuring several AWPA members. Conversations revolved around how to reduce risk, automation and modernization of technology, electrifying the US (EVs), and a growing interest in reshoring.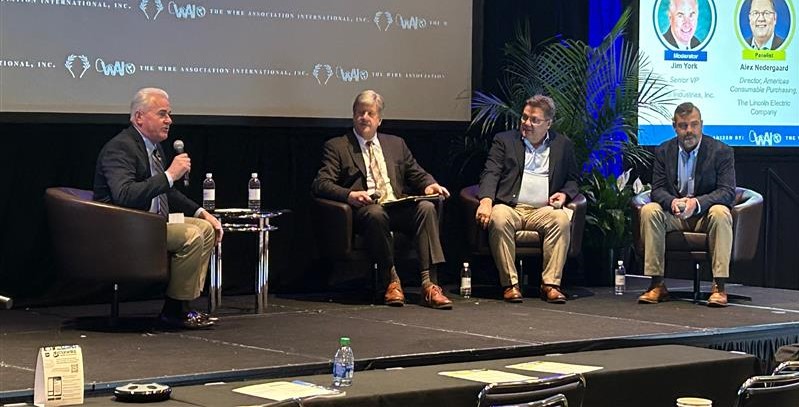 Right to left: Jim York, Insteel Industries; Andy Talbot, Mid-South Wire; Alex Nedergaard, Lincoln Electric Company; Bryan Sullivan, Bekaert.
The AWPA's next meeting will be the Government Affairs Conference, held September 19-21 in DC. See you there!