Assistant Secretary Lisa Wang and Deputy Assistant Secretary Ryan Majerus from the US Department of Commerce visited Nashville area wire facilities in March. It gave companies the opportunity to show off their facilities and discuss current challenges the US steel wire industry is facing.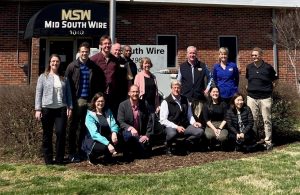 Commerce personnel visited Mid-South Wire in Nashville on March 29. John T. Johnson, President of Mid-South Wire noted "It was refreshing to have Washington bureaucrats/staffers come out and see an operation so that they could visualize it and better understand it. We feel like it was very beneficial for them as well as for us."
Are you interested in hosting a plant tour? It isn't too late to start working on a plan for Manufacturing Day, October 6. NAM has great resources here.